Wi-Fi & ATM(foreign exchange)
Free Wi-Fi
Keikyu provides the following free Wi-Fi service in order to provide international customers with smooth Internet access.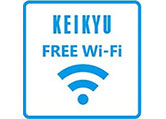 Connect using the SSID "KEIKYU_FREE_Wi-Fi" on your smartphone, tablet or other device at 69 stations on the Keikyu Line, including Shinagawa Station, Yokohama Station, and Haneda Airport Terminal 3 Station, for 15 minutes of Wi-Fi access (up to 3 times per day). (Available in English, Chinese Traditional, Chinese Simplified, Korean, and Japanese)
Japan Connected-free WiFi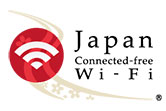 This is a free Wi-Fi service which allows users to use approximately 150,000* access points at major airports, stations, tourist facilities, and other areas throughout Japan by registering to use the app via the following QR code.
*

As of the end of January 2017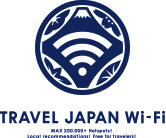 International visitors to Japan can download the "TRAVEL JAPAN Wi-Fi" smartphone app to connect to Wi-Fi spots on all Keikyu Lines and some Keikyu trains, as well as restaurants, cafes, and over 200,000 other locations throughout Japan.
Usage

Install the "TRAVEL JAPAN Wi-Fi" app from Google Play or the App Store to be able to use over 200,000 Wi-Fi spots throughout Japan.