Misaki Maguro Day Trip Ticket
Welcome to the Miura Peninsula
At Misaki Port, just one hour from central Tokyo, you can eat delicious maguro tuna any time of the year, in this port which boasts one of the leading landing volume of seafood in Japan.
The Miura Peninsula also boasts a number of scenic sights, including the famous Miura coastline with its Kawazu cherry blossom trees, and "Michelin Green Guide Japan" two-star site Jogashima.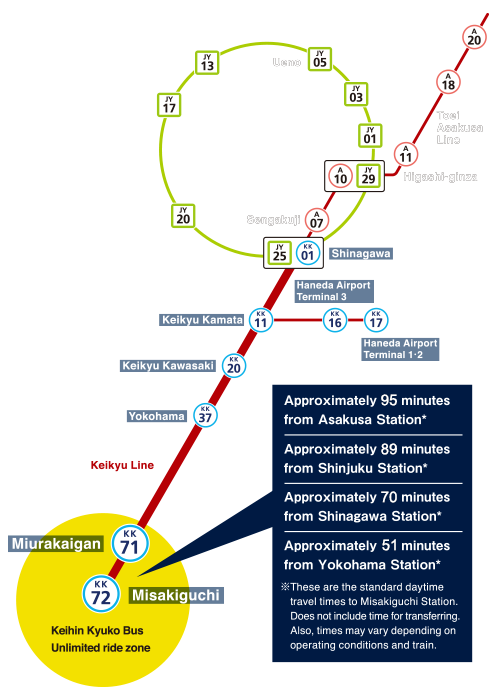 Check out these Miura Area blogs!
Introducing a set of discount tickets to enjoy the Miura Area,
Just one hour outside of Tokyo

Misaki Maguro
Day Trip Ticket
For people that are staying in Tokyo,
But want to get away for the day…!
●Set Contents
Train and Bus Tickets

Set of Keikyu Line round trip
passenger ticket and unlimited
ride Keikyu Bus ticket.

Maguro Selection Meal Ticket

Choose from 32 Restaurants!
Our Famous Maguro Meals

Leisure Facility or Souvenir Selection Ticket

Choose from 18 types
activities or souvenirs!
●Prices from Major Stations
Shinagawa, Keikyū Kamata, Keikyū Kawasaki

3,570 yen

Yokohama

3,480 yen

Haneda Airport Terminal 3

3,770 yen
●How to Buy
Please purchase from the ticket machines at each Keikyu Line station (except Sengakuji and Misakiguchi stations)
Recommended courses for Misaki Maguro Day Trip Ticket users ★
*◆ mark indicates train/bus ticket, ● mark indicates that Maguro Selection Meal Tickets can be used there.
*★ mark indicates where 1 leisure facility or souvenir ticket can be used. Other use will incur a separate charge.
*Times in this recommended course are only a guide. Please check train and bus times separately.
Recommended Course 1
10:30 AM
Purchase your tickets at Keikyu Line Shinagawa Station, and take the Keikyu Line (◆)
12:00 PM
Take the bus from Misakiguchi Station to Misaki Port (◆)
12:40 PM
Arrive at Misaki Port, and take the Niziiro Sakana Go (★) underwater sightseeing boat

1:30 PM
Enjoy a Maguro meal around Misaki Port (●)

3:00 PM
Take the bus from Misaki Port to the Keikyu Aburatubo Marine Park (★),
and interact with cute creatures ♪

4:30 PM
Take the bus to Misakiguchi Station (◆)
5:00 PM
Take the Keikyu Line to Shinagawa Station (◆)
Recommended Course 2
9:00 AM
Purchase your tickets at Keikyu Line Shinagawa Station, and take the Keikyu Line (◆)
10:20 AM
Take the bus from Misakiguchi Station (Bus Stop No. 2) to Jogashima (◆)
10:50 AM
Enjoy the majestic nature of Jogashima
(Jogashima Park, Umiu Observation Deck, Umanose Domon etc.)

12:30 PM
Lunch at Jogashima (famous for its Maguro and other seafood) (●)

2:00 PM
Take the ferry (★) from Jogashima to Misaki Port
2:30 PM
Rent a cycle at the Urari Markets (★)♪♪
3:30 PM
Afternoon tea at Misaki Donuts (★)

4:30 PM
Take the bus from Misaki Port to Misakiguchi Station (◆)
5:00 PM
Take the Keikyu Line to Shinagawa Station (◆)