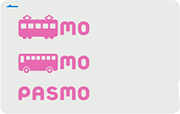 PASMO can be used as a regular or commuter ticket on railways and buses in the greater Tokyo area, including Keikyu and lines covered by Suica (such as JR-East). It is a very convenient card, as it can also be used for shopping!
PASMO Purchasing / charging (adding money to)
PASMO can be purchased or charged at train stations, bus company business offices, etc.
PASMO can be purchased at train stations, bus company business offices, etc. The desired amount to be charged can be selected from units of ¥1,000, ¥2,000, ¥3,000, ¥4,000, ¥5,000 and ¥10,000.
*

A ¥500 deposit is included in the purchase price. (The deposit will be refunded when PASMO is returned.)

You can charge in units of ¥1,000 at train station ticket machines and PASMO charge machines.
*

You cannot charge in excess of a balance of ¥20,000.

PASMO can be charged in ¥1,000 units. Simply ask the driver.
*

On buses, you cannot charge if the balance is ¥10,001 or more.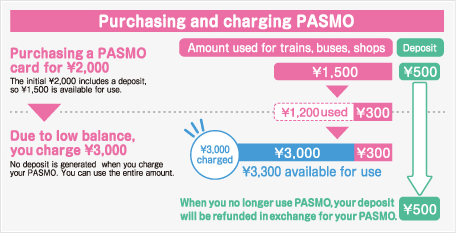 You can charge PASMO or Suica at some shops that accept them. Please inquire at a shop for more details.
PASMO When using on a TRAIN
PASMO can be used even inside a holder by touching it to the ticket gate's IC reader.
Stations with Simplified Ticket Gates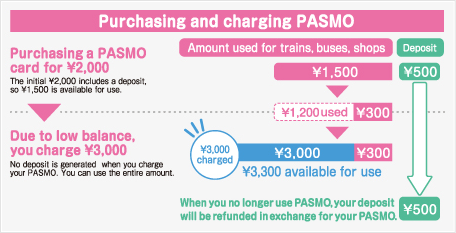 Firmly touch your PASMO parallel to the ticket gate's IC reader (the blue lighted surface) to confirm your entry to and exit from the train station.
When you do not firmly touch your card, a different route from your actual route may be charged to your card or you may not be able to use your card correctly on the next occasion.
PASMO When using on a BUS

You can use PASMO on buses too. To use your PASMO, firmly touch it parallel to the fare machine's IC reader.
To use PASMO on buses requiring payment in advance, touch your card to the fare machine's IC reader upon boarding. On buses requiring payment at the end of your ride, touch your card to the reader upon boarding and again when you're getting off.
*

If you require a fare statement when paying the fare for a number of persons, please ask the driver before touching the reader.
Method of Payment Before Riding

Method of Payment After Riding

PASMO When using as electronic money
PASMO can be used at shops and automatic vending machines within stations and in towns where PASMO or Suica is accepted.

1.

When paying, please tell the shop assistant that you wish to use PASMO.

2.

Confirm the payment amount displayed on the terminal and touch PASMO firmly onto the card reader. You can do this with the card in your wallet or pass holder.

3.

You will hear a beeping sound when the payment is completed. After paying, the balance will be displayed, therefore please confirm the details.

*

Some shops do not allow PASMO to be combined with cash. Please check when shopping.
How to use at automatic vending machines

Select the product you want and firmly touch your PASMO onto the IC card reader.
*

Cannot be combined with cash.
When you no longer need your PASMO

You can receive a refund.
Please contact the nearest business operator accepting PASMO to receive a refund of your SF balance after a fee is deducted and your ¥500 deposit.
When your PASMO is no longer usable

When you cannot use your PASMO due to some reason, it can be reissued.
This card cannot be reissued if lost.
In addition, each of the IC cards below can be used on "Keikyu Lines"!

This is the symbol of transport-based IC cards which can be used interchangeably nationwide.









*Information valid as of April 1st, 2014. Subject to change.