Our Efforts for Preventing the Spread of COVID-19 Infection (updated on July 1)
2020/07/01
Keikyu Corporation has been taking the following measures in order to prevent the spread of COVID-19 infection based on the"Guidelines for Measures against COVID-19 Infection to be Taken by Rail Transit Operators."
We ask for your kind cooperation for preventing infection, such as observing cough etiquette, properly washing your hands, and avoiding rush hour.
Please note that we may not open windows for ventilation in order to maintain a comfortable environment in train cars.
During the rainy season and hot summer, rain and wind may enter through open windows and risk of heatstroke is of concern.Keikyu's train cars are all (100%) equipped with an air conditioning system that introduces outside air and which are well-ventilated all the time.Additionally,the inside air is replaced when the doors open and close at each station within an interval of less than approx. 10 minutes.In the case of "Keikyu Wing," which runs in the morning and the evening and stops at fewer stations, intervals between stations are rather longer, butforced ventilation is conducted using exhaust fansin addition to ordinary ventilation using air conditioners, and the seats are larger. Please use "Keikyu Wing" without worry.
Measures taken in train cars and at stations
Ventilation using the air conditioning system that introduces outside air

(for 2100-type trains, additionally using exhaust fans)

Replacement of the inside air by opening all doors on the line at the depot

Announcement asking for cooperation for preventing infection
Regular disinfection work (

coating with anti-virus agent and antimicrobial

, cleaning using disinfectant solution)
Within train cars: handrails, straps, window frames, etc.
Station facilities: ticket vending machines, automatic ticket gates, waiting rooms, stair rails, passenger restrooms, escalator rails, elevator buttons, etc.

Coating with anti-virus agent and antimicrobial

for seats and AC filters in train cars
Preparation of alcohol-based sanitizer (Shinagawa, Yokohama, Haneda Airport Terminal 1-2, and Haneda Airport Terminal 3 Stations)
Ventilation of gate counters and waiting rooms by keeping automatic doors open
Installation of interphones at gate counters, announcement devices with a human detecting sensor for visually challenged persons, and shields to prevent droplet infection (transparent plastic curtain)
Preparation of hand soap in all restrooms
Conduct to avoid being infected and to avoid infecting others
Wear a mask
Properly wash hands and disinfect fingers
Health management (such as temperature check at the start and end of everyday work)
Disinfection of station offices
* Staff's wearing of masks
In order to prevent heatstroke, staff may not wear a mask when wearing a face shield or when engaging in duties in places where they do not have contact with customers. We appreciate your understanding.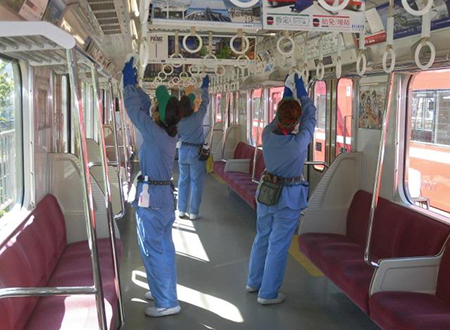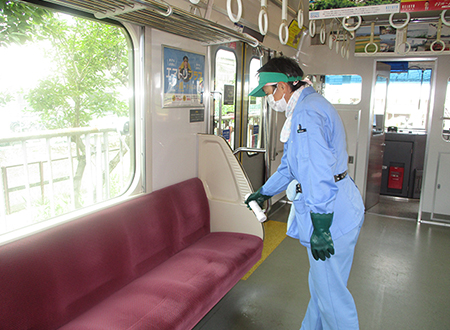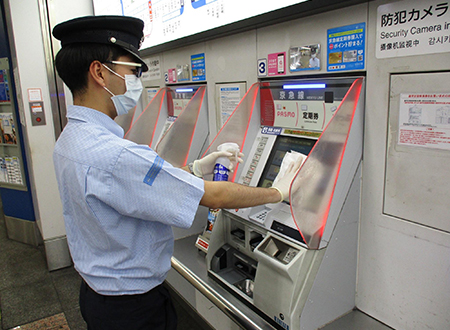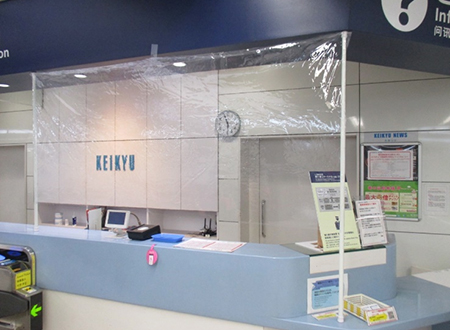 At present, the number of passengers is 20% to 40% fewer than in ordinary times.
We are committed to continuing our efforts for ensuring safe and stable transit services. We ask for your continued cooperation and to avoid rush hour.